Biography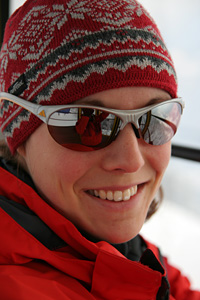 I grew up in Tekapo, New Zealand and was very lucky to be able to spend a lot of time with my family going on adventures and exploring the outdoors from a young age. I learnt to ski on our lawn in Tekapo at the age of just 2 1/2! School holidays were always a time for tramping, climbing, skiing or some other adventure. As a familly we did all the Great Walks around the South Island as well as a variety of lesser known tracks. At age 12 I did my first crossing of the Copland Pass - this was before the Stewart Gut was washed out, making the traditional route very difficult and dangerous. The trips got gradually more difficult and I ventured into more alpine terrain. Together with my father I climbed Aoraki, Mt Cook at age 14, becoming (temporarily) the youngest person to have summited. Ascents of Tasman, Elie de Beaumont and the Minarets followed. My most recent ascent was Mt Aspiring in January 2006. I have been a member of the Otago Unversity Tramping Club (OUTC) since 2004.
I began my University degree at age 18 at Otago University. I spent 4 years studying towards a Bachelor of Applied Science, majoring in Computational Modelling. In my second year at uni I trained for and passed my Stage 1 ski instructors exam and in my fourth year, my Stage 2 exam. I spent 4 of my summer breaks ski instructing in Adelboden, Switzerland. In this time I was also selected for and competed in three World University Winter Games; the first in Tarvisio, Italy, the second in Innsbruck, Austria and the third in Torino, Italy. In my third season working for the Adelboden ski school, I was part of the demo (formation/synchro skiing) team which finished 3rd at the Swiss National Ski Instructors Champs, qualifying us for the World Instructors Champs in Levi, Finland. In 2006 I completed my international ski instructors (ISIA) qualifiaction.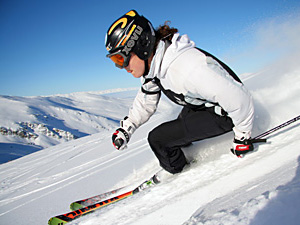 In 2005 I began work on a Masters of Applied Science, again majoring in Computational Modelling. I completed my Masters Thesis in November last year. Broadly, my project involved Computational Biomechanics, in particular studying the aspects of passive dynamic movement in the sport of alpine ski racing. My goal was to develop a virtual skiing model as a coaching tool. The movement of the model was 'physics-based'. I looked mainly at very simple models and very general movement patterns, but despite obvious simplifications, the models showed quite realistic looking movement.
Apart from tramping, climbing and skiing, my other hobbies include creative things such as web design, arts and crafts, and generally just anything I can make with my hands! I am also passionate about the environment and sustainabilty.